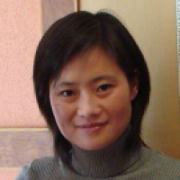 Dr. Xiang Gao
Research Scientist, Center for Global Change Science
Research Staff
Research Interests:
Dr. Gao's research is focused on the development and application of land-surface models, and using satellite remote sensing data to investigate precipitation events and hydrologic properties, including storm frequency and duration, soil wetness, and vegetation biophysical parameters. Her recent work has addressed land-climate interactions, the global water cycle, Arctic processes, and remote sensing of vegetation biophysical parameters. Prior to joining MIT, Dr. Gao was a Research Scientist at the Center for Ocean Land Atmosphere Studies (COLA) in Calverton, Maryland.

Selected Publications
 
Gao X., C.A. Schlosser, P. O'Gorman, E. Monier and D. Entekhabi (2017). Twenty-First-Century Changes in U.S. Regional Heavy Precipitation Frequency Based on Resolved Atmospheric Patterns. Journal of Climate, online first (doi:10.1175/JCLI-D-16-0544.1)
Fant, C., C.A. Schlosser, X. Gao, K. Strzepek and J. Reilly (2016). Projections of Water Stress Based on an Ensemble of Socioeconomic Growth and Climate Change Scenarios: A Case Study in Asia. PLoS ONE, 11(3): e0150633
Rodell, M., H.K. Beaudoing, T.S. L'Ecuyer, W.S. Olson, J.S. Famiglietti, P.R. Houser, R. Adler, M.G. Bosilovich, C.A. Clayson, D. Chambers, E. Clark, E.J. Fetzer, X. Gao, G. Gu, K. Hilburn, G.J. Huffman, D.P. Lettenmaier, W.T. Liu, F.R. Robertson, C.A. Schlosser, J. Sheffield, and E.F. Wood (2015). The Observed State of the Water Cycle in the Early Twenty-First Century. Journal of Climate, 28, 8289–8318
Schlosser, C.A., and X. Gao, 2010: Assessing Evapotranspiration Estimates from the Global Soil Wetness Project Phase 2 (GSWP-2) Simulations. Journal of Hydrometeorology, 11(4): 880-897.

Gao, X., P.A. Dirmeyer, Z.C. Guo and M. Zhao, 2008: Sensitivity of land surface simulations to the treatment of vegetation properties and the implications for seasonal climate prediction. Journal of Hydrometeorolgy, 9(3): 348-366.

Gao, X., C.A. Schlosser, P.R. Houser and J. Entin, 2007: Analysis of global atmospheric and terrestrial hydrological budget using merged satellite data sets. Eos Transactions, AGU, 88(52), Fall Meet. Suppl., abstract GC51B-07.

Guo, Z., P.A. Dirmeyer, X. Gao, and M. Zhao, 2007: Improving the quality of simulated soil moisture with a multi-model ensemble approach. Quart. J. Roy. Meteor. Soc., 133,731-747.
In the News
Education
B.S., Meteorology, Nanjing Institute of Meteorology, 1992
M.S., Meteorology, Chinese Academy of Meteorological Sciences, 1995
Ph.D., Soil, Water, and Environmental Sciences, University of Arizona, 2001